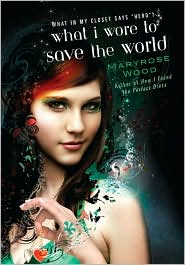 What I Wore to Save the World
Maryrose Wood
Berkley Trade
December 1, 2009
ISBN-10: 042522967X
ISBN-13: 978-0425229675
Third in the fabulous series that started with Why I Let My Hair Grow Out

Senior year's coming up fast and Morgan still has no clue about college, or a career-the whole rest of-her-life thing is basically a blank. Maybe it's because she spent her junior year obsessing about Colin, the hot Irish guy she fell for last summer (that was right around the same time she discovered she's a half- goddess from the days of Irish lore... you had to be there). She even saved Colin from a nasty enchantment, but he doesn't know that. Colin doesn't believe in magic, not even a little.

But then a mysterious message reunites her with Colin, who turns out to be caught up in the biggest faery-made disaster ever. We're talking the end of reality-not just reality TV. To save the world, she's going to have to tell Colin the truth about her half-goddess mojo. But if he doesn't believe in magic, how will he ever believe in her?

Senior year is almost here for Morgan but instead of thinking about what colleges she wants to apply to or what she'll wear to prom like any other normal junior, Morgan's too busy dreaming about Colin, the hunky Irish guy she met the previous summer. Mind you, she hasn't seen him in months but that hasn't stopped her from wanting to move across the big pond to Ireland to be closer to him. They met while Colin was under an enchantment and Morgan saved him but Colin doesn't know that Morgan's a half-goddess nor does he believe in magic at all. This might pose a problem.
After Morgan receives an email from Colin saying he needs her help, she pretty much drops her entire life to go to Ireland under the pretenses of visiting Oxford University because her parents would understandably freak if they found out she was actually going across the world to see a boy. What she soon finds out is that Colin didn't send the email but someone clearly wanted her to come to Ireland for a reason, but why? Turns out, there's a faerie disaster brewing and Morgan's the only who can stop it.
What I Wore to Save the World
is the third book in this series and since I hadn't read the previous books, I was a little worried about being utterly lost. However, there was enough back-story that I understood what was going on. There are really funny moments and I found myself laughing out loud. But I wasn't a big fan of Morgan, all she cared about was seeing Colin, enough that she travels half the world for him and really, she seemed like if he told her to jump off a building, she'd do it with bells on. I didn't like that, is it too much to ask for a little self-respect? Apart from thinking that Morgan was too easy, I did enjoy
What I Wore to Save the World
, it's a quick read with some really funny parts and interesting characters.