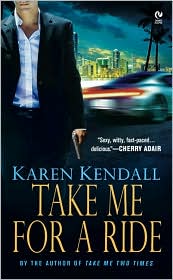 Take Me for a Ride
Karen Kendall
Signet
November 3, 2009
ISBN-10: 0451228464
A stolen necklace, a hidden family treasure and the Russian mob collide in a sizzling-hot romance from the "witty, irresistible" imagination of Karen Kendall . . .





Art restorer Natalie Rosen is a true romantic, inspired by the world's great art and literature. But nothing stirs her emotions like the legendary St. George necklace, which once belonged to Catherine the Great. The priceless heirloom was seized by the Nazis from Nat's family in Old Russia, never to be seen again. When against all odds, the necklace turns up in her office for repairs before auction, it vanishes, along with the impulsive Natalie.





Hard-living recovery agent Eric McDougal is no gentleman, but then he's never advertised himself as one. McDougal thrives on chasing women — and stolen art. Now he gets a dream assignment to do both, and thinks it'll be a cinch. But he doesn't count on his high-octane attraction to Natalie, or that she'll unwittingly lead them both into a dangerous underworld where falling in love — and staying alive — are part of the game.

Natalie Rosen is in a bit of a bind. She's an accidental jewelry thief. When she first sees the legendary St. George necklace, she immediately knows it was the one her grandma had always talked about and in a fit of temporary insanity, she swipes it from the repairs office she works at and takes the necklace to her grandmother.
What she never even thought about is that her grandma would be adamant in not giving it back to Nat so then everyone, including her boss, would think she stole it.
That's when Eric McDougal comes in. The company he works for, ARTemis, specializes in recovering stolen artand they have been hired by Natalie's boss to found the necklace. He thrives on getting back the pieces of arts he's paid to recover but he's also a big ladies man and when the opportunity to capture Natalie and the necklace presents themselves, he's definitely more than willing to go for it. However, he never counted on the undeniable attraction he would soon develops for Nat.
Because things are never easy, Natalie and Eric end up in the middle of deadly game. Some not-very-nice people want that necklace and they're willing to do anything to get it, including getting Eric and Nat out of the way - permanently.
Take Me for a ride
is a complete thrill ride! Eric and Nat have an amazing chemistry that just comes right off the page and it was incredibly entertaining to read. The story has all the right elements - great plot that keeps the reader wanting more until the very end, super hot moments and a wonderful set of character. This is the first book by Kendall that I've ever read and I can honestly say that I will definitely be reading more!
[Check out an awesome excerpt
here
!]