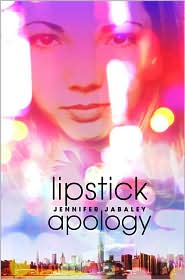 Lipstick Apology
Jennifer Jabaley
Razorbill
August 6, 2009
ISBN-10: 1595142312
Four Little Words Written in Lipstick...

mean Emily must say goodbye to everything she knows. Emily Carson has always been a good girl. So when she throws a party the night her parents leave for vacation, she's sure she'll get busted. What Emily doesn't know is that her parents will never return. That their plane will go down. And the only thing left amidst the wreckage will be a tray table with the words: Emily please forgive me scrawled in lipstick—her mother's last words.

Now it's fall in New York City and Emily's trying to pick up the pieces of her shattered life. Her public tragedy captures the attention of more than just the media—and soon two very different boys at her new school are pursuing her: the cute, popular Owen and the quirky chemistry partner slash pastry-baker-by-night, Anthony. But even with such delicious distractions, Emily can't let go of her mother's mysterious apology. Does she have the courage to face the truth?

With help of a whole new kind of family—one that includes a make-up artist to the stars, a teen model, and a wacky hairdresser—Emily must choose between the boy who makes her forget it all, and the one who encourages her to remember, and ultimately, heal.

Sometimes goodbye is just the beginning.
Oh, wow. I
loved
this book. I laughed uproariously - like at times, I had to stop reading because I was laughing so hard. The pillow-kissing scene? PRICELESS. And I might have snorted a few times too. But I'm not admitting anything - and there were so many funny moments. But this story was also very heartfelt and wonderful. Emily's dealing with the grief of losing her parents, moving to a strange new city, leaving her friends, her school, her childhood behind.
The ending was lovely. I'm fairly certain that for the last 3 chapters or so, I cried and cried. The writing is fresh and just plain awesome.
Lipstick Apology
is a wonderful first novel, and while I laughed and cried, I fell in love with each character.