In My Mailbox was started by Kristi over at
the Story Siren
. It's when you post the books you've received that week - brought/won/from a library, etc.
So! My turn: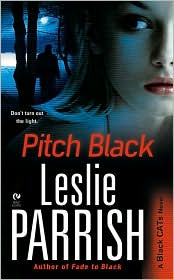 Pitch Black
by Leslie Parrish
Former profiler Alec Lambert would give anything to catch The Professor, a serial killer who lures his victims with Internet scams.

Now working with reclusive scam expert Samantha Dalton, he finally has his chance. But as they draw ever closer to discovering The Professor's identity and stopping his murderous rampage, they realize Sam is the psychotic killer's new obsession—and possibly his next target...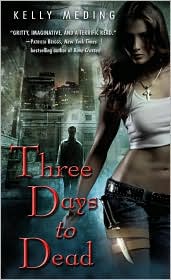 Three Days to Dead
by Kelly Meding
They'll never see her coming. . . .
When Evangeline Stone wakes up naked and bruised on a cold slab at the morgue—in a stranger's body, with no memory of who she is and how she got there—her troubles are only just beginning. Before that night she and the two other members of her Triad were the city's star bounty hunters, mercilessly cleansing the city of the murderous creatures living in the shadows, from vampires to shape-shifters to trolls. Then something terrible happened that not only cost all three of them their lives but also convinced the city's other Hunters that Evy was a traitor—and she can't even remember what it was.
Now she's a fugitive, piecing together her memo
ry, trying to deal some serious justice—and discovering that she has only three days to solve her own murder before the reincarnation spell wears off. Because in three days Evy will die again—but this time there's no second chance. . . .
Only two books but I'm super happy with them and I'm really looking forward to reading both, especially Three Days after Dead after reading Rachael's review and she
totally loved it
!
I think I will, too.
And I've read great things about Pitch Black so hello! WIN.

Edited to add
:
This morning I got
Bound
by Amy Lane! Really looking forward to reading it considering I loved the previous books.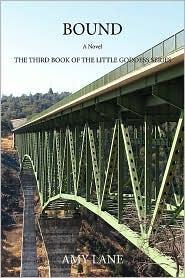 Humans have the option of separation, divorce, and heartbreak—for Corinne Carol-Anne Kirkpatrick, sorceress and queen of the vampires, the choices are limited to love or death. Now that she is back at Green's hill and assuming her duties as leader, her life is, at best, complicated. Bracken and Nicky are rivalling for her affections, Green is gone taking care of his people, and a new supernatural enemy is threatening the sanctity of all she has come to love. Throw in a family reunion gone bad, a supernatural psychiatrist and a killer physics class, and Cory's life isn't just complex, it's psychotic.

Cory needs to get her act and her identity together, and soon, because the enemy she and her lovers are facing is a nightmare that doesn't just kill people, it unmakes them. If she doesn't figure out who she is and what her place is on Green's hill, it's not just her life on the line. She knows from hard experience that the only thing worse than facing death is facing the death of someone she loves.

Because loving people is easy—living with them is what takes the real work, and it's even harder if you're BOUND.