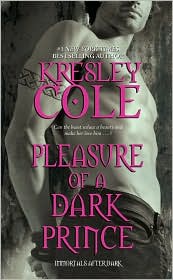 Pleasure of a Dark Prince
(Immortals After Dark, book 9)
Kresley Cole
Pocket
February 16, 2010
ISBN-10:
1416580956
ISBN-13:
978-1416580959
A DANGEROUS BEAUTY...
Lucia the Huntress: as mysterious as she is exquisite, she harbors secrets that threaten to destroy her -- and those she loves.
AN UNCONTROLLABLE NEED...
Garreth MacRieve, Prince of the Lykae: the brutal Highland warrior who burns to finally claim this maddeningly sensual creature as his own.
THAT LEAD TO A PLEASURE SO WICKED....
From the shadows, Garreth has long watched over Lucia. Now, the only way to keep the proud huntress safe from harm is to convince her to accept him as her guardian. To do this, Garreth will ruthlessly exploit Lucia's greatest weakness -- her wanton desire for him.
Anyone who knows me knows that Cole's books are like crack to me. Seriously. CRACK. And so it is with no surprise that I say I LOVED THIS BOOK. I don't want to sound like a gibbering fan-girl but I'm afraid there is no other choice. Cole writes the best alpha males ever and the best heroines ever and OhmyGOD, I love her books.
Yeah, so I'm sounding like a fan-girl. I told you it would happen!
One thing I must mention is that Cole's series timeline is a little wonky in that she doesn't necessarily follows it. I mean that all her books so far are written as if they are happening at the same time or really close together in timeline so it might be a bit confusing to some people. I honestly don't mind this, I think it's insanely creative and cool of her to write the books like this because you see situations from different perspectives. There's nothing bad I can say about
Pleasure of a Dark Prince
. The characters are wonderful, the chemistry between Lucia and Garreth comes right off the page, and the story will have you on the edge of your seat! I enjoyed every word, every scene, everything! I cannot wait for the next installment in the IAD series!
Lush Rating: 5!