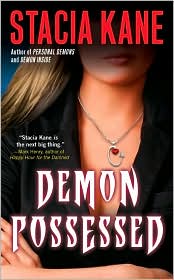 Demon Possessed
(Megan Chase, book 3)
Stacia Kane
Pocket
February 23, 2010
ISBN-10:
1439167613
ISBN-13:
978-1439167618
Psychologist and psychic Megan Chase has grown remarkably comfortable hanging out with demons. The demon "family" she leads is happy, her solo practice is stabilizing, and she and her steamy demon lover, Greyson Dante, are closer than ever. But when the couple books a week at a luxury hotel to attend a meeting of demon leaders, some unanticipated problems appear.
An FBI agent with an unhealthy interest in less-than-legitimate demon business practices shows up; the demon community is urging Megan to undergo the rite that will make her a real demon; and a slightly shady minister is holding one of his wildly popular "weekend exorcisms" just down the road. And oh, yes, someone with scary magical abilities is attempting to kill her. Then, just when it seems as if things couldn't possibly get any worse, a secret comes to light that could jeopardize Megan and Greyson's future -- if Megan manages to live that long. With things heating up, it's becoming difficult for her to keep a cool head...
Demon Possessed is the third book of the Megan Chase series and while I enjoyed it, I had some issues with Megan. First of all, I felt like at times she was being seriously dense and right-down idiotic. It seemed to me like she wasn't sure if she wanted more out her relationship with him or not and like this demon gig was temporary in her mind? I'm not sure but I wasn't feeling it. But it wasn't just her, Greyson pissed me off too.
However, the story was really fun to read, someone is trying to get Megan killed and they have to find out who it is before it's too late, Megan's being pressured to become fully demonic and some nutty minister is running exorcism so Megan's got a lot on her hands. The story has some very funny parts, the demonic brothers are protect Megan and Greyson are down-right hilarious sometimes and I loved reading about them!
Demon Possessed is a really fun installment in the Megan Chase series with lots of action-packed scenes, steamy moments and funny parts. I really enjoyed it, and sure, while some parts annoyed me, I'm definitely looking forward to reading more of her books!
Lush Rating: 3 Lushies!
If you want to check out this series or Ms. Kane's upcoming UF Unholy Ghosts (Amazing story, by the way! I'll post my review next month.) Check out her website for lots of goodies. (Psst, there's a kick-ass new sneak peek of Unholy Ghosts, too!)