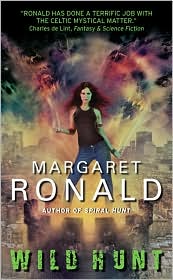 Wild Hunt
Margaret Ronald
Eos
January 12, 2010
ISBN-10:
0061662429
ISBN-13:
978-0061662423
Genevieve Scelan thought she was done with magic.
She was wrong.
Sure, six weeks earlier Evie—bike messenger, supernatural tracker, and avid Red Sox fan—had been instrumental in bringing down the Fiana, the organization of magicians that had ruled Boston's undercurrent for hundreds of years. But now they were gone, Boston could breathe easy again, the Sox had a chance at the pennant, and Evie was ready to relax.
Except it turns out that when you take down the guy on top, everyone assumes you're going to fill his spot, and now Evie finds herself at the center of a whole lot of unwelcome magical attention. On top of that, a new client needs her to call up a family ghost and ask about a stolen inheritance; Evie's friend Nate has a supernatural problem of his own; and a legendary pack of hounds has been terrorizing Boston's undercurrent. And try as Evie might to deny the legacy that runs through her blood, when the Hunt is called, the Hound must run...
I have never not finished a book, not even one that I really wasn't enjoying but unfortunately, I did not finish Wild Hunt. First of all, don't even bother reading it if you haven't read the first book, Spiral Hunt, as you will be lost just like I was. Ronald throws the reader into the story with little to no background and from the get-go, I was lost and confused. Because I didn't know what had happened in the previous book, Evie's actions in this one made no sense to me and I kept trying to find some sense to the plot and that got old real fast. But that wasn't even my beef with this book, if after starting Wild Hunt and quickly noticing that my only problem was that I needed to read the first book so things would make sense, I would have gladly have gotten the first book, read it then read Wild Hunt but the writing didn't interested one bit so what would have been the point of that?
The story is told from Evie's point of view and she just seemed like a poor schmuck that got stuck in her situation and I just honestly didn't care one bit. The secondary characters seemed flat and lifeless to me. The plot didn't grab me. Evie is apparently a Hound, which are people that have really good noses and can smell things and people from miles away and she runs a business as a tracker. She's got a new client who wants her to find the owners of some missing properties but she needs to call up the client's however-many-greats grandmother to ask her where she got the stuff from and that's dangerous. She also has to deal with pretty much everyone in town thinking that she's the new boss because apparently in the previous book, she took down the old bosses.
It took me two days to read 97 pages of this book. Normally that takes me not even an hour. I couldn't bring myself to care about the story or the characters because for me to be able to do that, the writing has to interest me, I need to feel like I care about what's going to happen and I didn't one bit with Wild Hunt. I didn't like what I read, the characters were made of cardboard, the plot didn't hold my interest and unfortunately, I couldn't finish it.