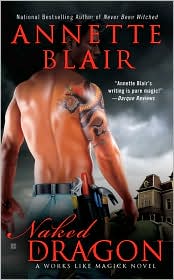 Naked Dragon
A Works Like Magick Novel
January 5, 2010
ISBN-10:
042523200X
ISBN-13:
978-0425232002
In Salem, human magick has thinned the veil between the planes to a permeable mist, forming a portal into the city, allowing time travelers and chameleons of the universe to enter there.
Bastian Dragonelli, once a Roman warrior turned dragon, is the first of his legion to be returned to earth, a man. So his brothers can also be saved and sent to earth, Bastian must reclaim the magick of Andra, Goddess of Hope, who sacrificed hers to transform him. He must seek his heart mate and make her quest his own. But the dark, powerful Killian, Sorceress of Chaos, who turned his legion into dragons and skewed his transition back into a man, is hot on his heels.
McKenna Greylock, the last non-magickal descendant of Ciarra, a witch who survived Salem's hanging times, needs a jack-of-all-trades to help turn her dilapidated Victorian into a bed and breakfast so she doesn't lose her home and her family's centuries-old legacy.
Enter McKenna's cousin, Vivica Quinlan, Ciarra's most magickal descendent, owner of the Works Like Magick Employment Agency. Vivica has a gift for matching human employers with magickal employees. Like Ciarra before her, Vivica knows when magickal supernatural ancients are about to arrive. She greets them and acclimates them to life, and to making a living, in Salem.
Besides Killian's threatening presence, Bastian's life is also complicated by McKenna, his guardian dragon, a troublemaking fairy, and a case of culture shock. Bastian also has a problem with his man lance. It won't behave at all the way he remembered it should. Not at all...
McKenna Greylock is pretty desperate for a handyman. She has ninety days to turn a crumbling Victorian house into a bed-and-breakfast or she'll lose the property that has been her family's for centuries. She goes for help to her distant cousin, Vivica, who runs Works like Magick, an employment agency in Salem, Massachusetts, because she needs a man who's willing to work hard and take orders from her and Steve, her contractor, for minimum wave and room and board. Vivica sends over Bastian Dagronelli to help McKenna. He's a hunk of man who definitely has the strength and agility to help her get the house in order. But Bastian is not only a man, he's kind of a dragon in human form. Turns out, he's from another dimension and was sent over by a goddess to defeat an evil crone so his other dragon brothers can come to Earth, too.
And the plot thickens.
But the only way Bastian can accomplish this is by finding his heart mate and from the second he lays eyes on McKenna, he think it's her. However, wooing her won't be easy. She has been hurt in the past and is skittish around men as can be. She hides her emotions behind a wall that Bastian is determined to crumble in whatever way it takes. McKenna might be attracted to her new handyman but she's determined to get her house ready for the inspector and Bastian has his work cut out for him because if McKenna can't open herself to him and accept his true self - dragon scales and all - the least of their problems will be turning the house into a B&B.
Naked Dragon was one of those books that from the beginning I was confused about. It wasn't that the plot was too confusing to follow, not at all, but that I didn't know how to feel about it. I didn't hate it but I never felt quite that interested in what I was reading. I didn't feel emotionally invested in the characters, nor did I particularly care about what was happening to them. I feel like there was something missing, that connection between the reader and the story that makes us cheer for our favorite characters, which I didn't have, and makes us want them to live happily ever after. However, I did enjoy some parts of the story. McKenna's interaction with her friends, for one. She's very caring and will do anything to help them. Unfortunately, Naked Dragon didn't do it for me. The end does set up the next book rather nicely and I'm hoping I'm able to enjoy the next installment much more.