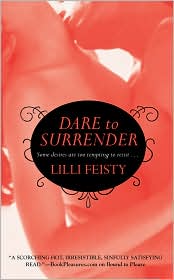 Dare to Surrender
Lilli Feisty
Forever
February 1, 2010
ISBN-10:
0446541931
ISBN-13:
978-0446541930
HE MEETS HIS MATCH.
SHE MEETS HER MASTER.
Art gallery curator Joy Montgomery has never liked her body's generous curves. And she's always been too shy to explore her wild side. But tonight, everything is going to change . . .
Desperate to save her job, Joy approaches bad-boy artist Ash Hunter and asks him to exhibit his erotic work at her gallery. Ash agrees on one condition: Joy must pose as his model. But business soon turns to pleasure, as Joy experiences a passion beyond her wildest imaginings and Ash finds more than just inspiration in his voluptuous new muse.
Let me just say that I LOVE this book. One word to describe it is hot. Really, really HOT. Ash's a bondage photographer and Joy's on a mission to get him to let her showcase his art but here's where things get a little complicated: Ash is done with art and refuses to do a show.. unless Joy poses for him!
So things soon get really hot and steamy between Ash and Joy but she's holding something back that could totally destroy their blossoming relationship and she's willing to try anything to make sure Ash doesn't found out and end up hating her.
Joy easily became my favorite character. She's so not put together, she loses her keys and her place is a mess but she's incredibly caring and lovely and that's what matters to me. I could totally relate to her. Ash is just too awesome for words. He's so damn protective about his family and would do anything for them. They both make a great couple 'cause while Joy is a little flaky and all over the place, Ash is crazy neat and organized and they seemed to balance each other really nicely.
Dare to Surrender is a fantastic story with realistic characters, a great plot and wicked hot scenes that had me blushing. I really had a blast reading it and I'm so adding Fiesty to my list of authors to be on the look-out for!