And the winner is..

Bethie

! Congrats! I'll email you in a sec with the deets. Thanks to everyone who entered!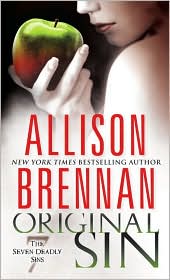 Original Sin
The Seven Deadly Sins
Allison Brennan
Ballantine Books
January 26, 2010
ISBN-10:
0345511670
ISBN-13:
978-0345511676
Haunted by chilling memories of demonic possession and murder, Moira O'Donnell has spent seven years hunting down her mother, Fiona, whose command of black magic has granted her unprecedented control of the underworld. Now Moira's global search has led her to a small California town that's about to become hell on earth.
Tormented by his own terrifying past and driven by powers he can't explain, ex-seminarian Rafe Cooper joins Moira's dangerous quest. But Fiona is one devilish step ahead. Hungry for greater power, eternal youth, and stunning beauty, the sorceress is unleashing upon the mortal world the living incarnations of the Seven Deadly Sins.
Together with a demonologist, a tough female sheriff, and a pair of star-crossed teenagers, Moira and Rafe are humanity's last chance to snatch salvation from the howling jaws of damnation.
While I was reading
Original Sin
, I kept going from thinking "Oh, this is really good!" to "Why am I reading this?" and by the end, I was still somewhat confused on how I felt about the story. Some parts I really liked, I think the premise for the story was really interesting. These aren't supernatural super-talented men fighting demons, they're plain humans trying their best and that was a nice change of pace.
I liked Moira but it was obvious that she didn't want to have such huge responsibilities. She had her good moments but I felt like she was stumbling about in the dark a lot. The romance between her and Rafe was sweet, but not much explored and Rafe was one of my favorite characters.
In the end, I think
Original Sin
is a pretty good start to a series that has the potential to be really great. If it hadn't been for Meryl (thank you, Meryl!) who brought the book to my attention I probably wouldn't have given it a chance. I will definitely be reading Brennan's next book in this new series, I'm interested in finding out how Moira and company will save the world next!
Giveaway
time!
I have a copy of
Original Sin
to give to a lucky reader! Just leave a comment to enter! Open only to U.S. (Sorry, guys) and I'll choose a winner Monday, the 8th!