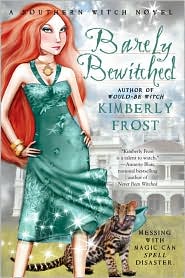 Barely Bewitched

Kimberly Frost
Penguin Group
September 1, 2009
ISBN-10: 0425229610

Welcome to Duvall, Texas, where new witch Tammy Jo Trask has just unleashed an accidental Armageddon...Oops.

Tammy Jo's misfiring magic has attracted the unwanted attention of WAM, the World Association of Magic. Now, a wand-wielding wizard and a menacing fire warlock have come to Duvall to train her for a dangerous mandatory challenge. But is there more to their arrival than they claim?

When a curse leads to a toxic spill of pixie dust, the town comes unglued and the doors between the human and faery worlds begin to open. To rescue the town and to face the impossible magical test, Tammy needs the help of incredibly handsome Bryn Lyons, but WAM has declared him totally off-limits. To avoid deadly consequences, Tammy probably ought to follow the rules this time.

On the other hand, rebellion is an old Texas tradition
Brand-new witch Tammy Jo has unfortunately attracted the attention of WAM, or the World Association of Magic. They're demanding that she has to be pass a test before she can actually practice magic. The funny thing is, Tammy Jo is not really interested in practicing magic to begin with, she's happy being a pastry chef. Much to her dismay, the people at WAM are not giving her a choice - she has to pass her test or she risks being, well, terminated, if you know what I mean. The Association has sent a wand-wielding wizard named Jordan and a psycho fire warlock named Incendio to train her and get her ready for the test she has to pass. Or so they say.

Tammy Jo's being told by WAM to stay away from Bryn Lyons, a mage she's incredibly attracted to, although she's still on and off with her ex-husband, Zach. Staying away from Bryn proves more difficult than anything when she accidentally unleashes a curse on the town, which leads to a toxic spill of pixie dust. Next thing you know, there's naked people dancing around being mischievous and Tammy has to find a way to get the town back to normal. But she can't do so alone and she needs Bryn to help her. So between WAM trying to rule her life, her town going nuts and trying not to jump Bryn's sexy bones, Tammy Jo's got her hands full!


Barely Bewitched is the second installment in Frost's Southern Witch Novels. It's a very funny book and easy read! From beginning to end, Tammy Jo's adventures kept me on my toes and wondering what was going to happen next. It was hilarious how when she tried to make it better, she ended up making worse! Considering this is the second book in the series, I was a little wary that I would be a bit lost since I haven't read the first book, Would-Be Witch, but I'm glad to report that wasn't the case at all. There's definitely enough back-story for the reader to understand what's going on and why. I thought Barely Bewitched to be a very entertaining story and I'm definitely reading the next Tammy Jo book!
[Reviewed on NOR]