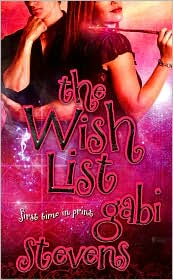 The Wish List
ISBN-10: 0765365030
ISBN-13: 978-0765365033
Kristin Montgomery is more than a little shocked when her aunts inform her they're fairy godmothers. Worse, after dropping that bombshell they hand her a wand and head off on a world cruise. Now Kristin's uncomplicated life as a CPA in San Diego has disappeared like magic and she not only has to deal with her burgeoning magical powers, but also a reluctant—and distractingly sexy—magical arbiter.

Tennyson Ritter is a historian. A scholar by choice, he is yanked from his studies to act as arbiter for the newly chosen fairy godmother. He doesn't want to waste his time with a woman who doesn't know anything about magic or the magical world, but soon the beguiling Kristin draws him away from his books and into her life.

But before Kristin can hone her skills and pass the tests necessary to fully claim her powers, she and Tennyson must work together to defend the world – both magical and human – against those that would claim her powers for their own.
One day Kristin Montgomery is a boring, ol' CPA, the next she founds out her aunts are fairy godmothers going on a cruise and so is Kristin! A fairy godmother, that is. She's not going on a cruise. Turns out, they're retiring and that means that Kristin has to take their place as a godmother but there's a wee little problem: She has no idea how to even use a wand, nevertheless actually going about granting wishes and doing whatever else entails being a godmother. So because she's a newb, she has to be trained by no other than Tennyson Ritter, a well-know historian and wizard.
To make things deliciously complicated, from the get-go Kristin and Tennyson have the hots for each other but as a arbiter/student, it's against the rules for them to start anything. But before they can even start thinking about exploring their very-illegal feelings for each other, odd things start to happen and before you know it, Kristin's life is in danger and Tennyson is the only one who can help her. Obviously.
Let me start by saying that I did not finish The Wish List. Yep, it was a DNF for me and mostly because I could not stand either main character. From the beginning, Kristin annoyed the bejesus out of me with her whining and it got old fast. Tennyson is so high and mighty that at times I wanted to reach into the book and smack him. I tried to give them the benefit of the doubt and even made it almost half way through the book before I just called it a day and gave up. The story itself is just so convoluted and poorly-explained and honestly, it seemed like the author was pulling information out of nowhere and smashing it all together in the hopes of it somehow making sense and it didn't one bit. The plot is shallow and confusing and the characters highly annoying and unlikeable and I'm sorry to say The Wish List was a huge miss for me.
Lush Rating: 2!