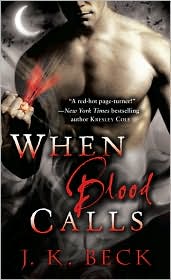 When Blood Calls
J.K. Beck
Bantam Books
August 31, 2010
ISBN-10: 044024577X
ISBN-13: 978-0440245773
Attorney Sara Constantine is thrilled with her promotion—until she finds out that she must now prosecute vampires and werewolves. The first defendant she'll be trying to put away? Lucius Dragos, the sexy stranger with whom she recently shared an explosive night of ecstas

y.



When Lucius kisses a beautiful woman sitting next to him at the bar, he's hoping only to avoid the perceptive gaze of the man he's planning to kill. But what starts as a simple kiss ignites into an all-consuming passion. Charged with murder, Luke knows that Sara is determined to see him locked away—unless he can convince her that he's not a monster. And that might mean making the ultimate sacrifice.
As a prosecutor, Sara Constantine has seen the worst of people and when she gets a chance to work with an elite group of Homeland Security officials to send monsters to prison, she's immediately takes it up. Sara soon finds out that by monsters, they really do mean monsters. She'd be prosecuting vampires and werewolves and any other thing that comes out to play at night that have hurt others. Sara thinks she's ready to start until she meets her first case - Lucius (Luke) Dragos. They kind of know each other, as in, they had a sinfully hot one night stand. And even more upsetting, he's a vampire.
Sara can't reconcile that gentle and demanding lover that she was with that night with the man sitting in front of her in an interrogation room accused of ripping a judge's throat out. Literally. But she doesn't have a choice but to do her best to convict him, even if doing so might send the one man that can make her feel like she's never felt before straight to the guillotine. Literally.
When Blood Calls starts off Beck's new paranormal romantic suspense series and a fabulous start, it is! Sara and Luke have an incredible chemistry together and it's obvious from the get-go. They're both really strong characters and that along with a great bunch of secondary ones that add more depth to the story make for a really entertaining read. I really enjoyed how this story has a bit of everything: romance, paranormal and suspense and it all makes a miasma full of awesome! When Blood Calls is dark, edgy and wickedly hot! With great characters and a plot that will keep you guessing until the end, this book is a great read! I highly recommend it.
Lush Rating: 4!