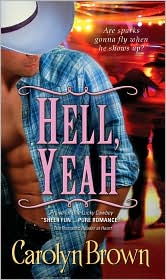 Hell, Yeah
ISBN-10: 1402239270
ISBN-13: 978-1402239274
She's finally found a place that feels like home...




When Cathy O'Dell buys the Honky Tonk, the nights of cowboys and country tunes come together to create the home she's always wanted. Then in walks a ruggedly handsome oil man who tempts her to trade in the happiness she's found at the Honky Tonk for a life on the road with him...




He lives the good life...




Gorgeous and rich, Travis Henry travels the country unearthing oil wells and then moving on. Then the beautiful blue-eyed new owner of the Honky Tonk beer joint becomes his best friend and so much more. When his job is done in Texas, how is he ever going to hit the road without her?
Hell, Yeah is the second book in the Honky Town series and in it, Cathy is now the owner of the bar. She's got a new life and it seems like everything's going great until Travis Henry walks into her bar. From the get-go, there's an immediate attraction between the two of them. The thing is, Cathy is a bit prickly. I can understand that she's been hurt before but at times, she's downright bitchy and Henry thinks that because she works at a bar, she must be a dumb blond. This is something that really annoyed me, especially considering that it's like a repeat from the first book in this series, I Love This Bar. I got over this quickly.

The second characters kind of made up for this because they're so much funny and exciting! So while I had issues with the main characters, I did enjoy the story mostly when I wasn't getting annoyed by the primary characters although I must admit that once they get over their misconception of each other, it completely turned the story around for me. Hell, Yeah is a sweet and romantic story about two people falling in love and with great set of secondary characters, I really enjoyed the story.

Lush Rating: 3!