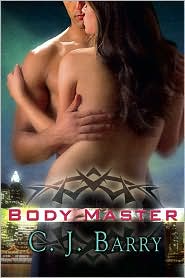 Body Master
C.J. Barry
Berkley Trade Sensation
Paranormal Romance
August 3, 2010
ISBN-10: 042523455X
ISBN-13: 978-0425234556
Seneca Thomas is an agent with XCEL, a secret government taskforce charged with capturing the dangerous shapeshifters that have infiltrated

New York City, passing for humans. Her Native American heritage gives her a special gift—the ability to see the shapeshifters for what they are. Unfortunately, this doesn't make killing them any easier...
Max Dempsey was on a refugee transport that crashed to Earth, setting thousands of shapeshifters free to do what they do best—replicate the local population in order to survive. Among them is the shifter who murdered Max's wife. Now Max's only desire is to find him and destroy him—until he gets partnered with Seneca, a sexy, fearless agent who would kill every one of his kind—including Max—if given the chance.
As a criminal army of shifters assembles under the city determined to wreak havoc and destroy humanity, Seneca and Max will have to embrace their explosive chemistry, for only by trusting in each other and their power can they hope to stop the growing evil.
Seneca Thomas lives for one thing - to hunt shapeshifters who has viciously murdered humans. As an agent for XCEL, she's got the go-ahead to do just that to these monsters. However, things don't go exactly as planned on her latest case and next thing she knows, she's forced to partner up with Max Dempsey. It wouldn't be that much of a problem if he wasn't a shapeshifter, the same being Seneca wants to kill with a passion.
Max has put up with a lot of crap to get where he is at the moment. He's the only shapeshifter in an organization that was made to kill exactly what he is but he won't rest until he finds whoever killed his wife and betrayed their people. And if that means partnering with the stubborn, beautiful hunter that the Seneca Thomas is, then he's more than up to it.
Soon enough, Seneca and Max notice that they don't exactly hate each other. In fact, they're kinda hot for each other but before Seneca can get over her prejudice for shapeshifters and Max can put his revenge to rest, they need to found out why so many shapeshifters have been killing humans lately and who is behind the murders before it's too late.
Body Master is the first book of the Body series and a solid start, in my opinion. Barry gives enough back story for the reader to know what's going on. I did have some issues with the story though. It's never fully explained why Seneca hates the shapeshifters so much, and it was just exasperating at times to read her ranting about them and it seemed like she just hated that they existed. Uh, racist much? So, needless to say, I got over that fast. But hey, t
he relationship between her and Max was sweet, they really don't want to start having feelings for each other and they definitely fight it but it was lovely to see them get to know each other more and see their attraction grow stronger.
Body Master has a bit of everything: great action scenes, hot romance, killer suspense and paranormal goodness that makes for a fun read. I'm definitely looking forward to checking out this author's future books.