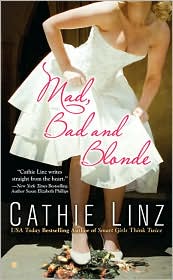 Mad, Bad and Blonde
Cathie Linz
Berkley
March 2, 2010
ISBN-10:
0425233405
ISBN-13:
978-0425233405
When a man's too good to be true.
Jilted on her wedding day for being the queen of dullsville, librarian Faith West goes on her Italian honeymoon solo, hoping to leave her pain behind. That could take a miracle, but she's about to discover miracles do happen. His name is Caine Hunter. Smart, spontaneous, hot, and sexy, he has her feeling like a real woman for the first time ever until the truth surfaces.
A former Force Recon Marine turned PI, Caine was doing what he does best: spying. And his new target was Faith. But falling for the enemy's daughter was never part of his plan. Caine is a man used to winning, but this time his mission is much more personal -- and now that he and Faith are both back in Chicago, the rewards could be, too.
Being left at the altar will piss any girl off but when it happens to Faith West, she doesn't go home and bury her sorrows in a pint of Ben and Jerry's! Instead she goes to Italy. While flying solo on her honeymoon, she decides to reinvent herself - Now, she's blonde with a new attitude on life. While in Italy, she meets Caine Hunter. He's gorgeous, attracted to her and they're having a wild, hot fling until Faith founds out that he's lied to her. Apparently, he's a former Marine turned PI working for her dad's arch-rival, Vince Kings from Kings investigations. Faith's beyond mad to found out she's being lied to by another man, especially when she founds out Caine was sent by Kings to seduce her to get back to her father but he also has ulterior motives. Caine is investigating his dad's suicide and thinks Faith's dad massively messed up the investigation back then because he's completely sure that his dad would never kill himself.
After Faith comes back to the States, she thinks she's done with the Caine fiasco. Yeah, not so fast. Especially when she quits her librarian job and asks her dad for a position in his PI agency as she actually has her PI license. She's happy with her new direction in life until she starts bumping into Caine everywhere. He is not giving up on finding out what really happened with his dad's case and that just might bring them closer than ever before.
Mad, Bad and Blonde was one of those books that took me a while to get into. The characters seemed a bit robotic at times. Honestly, there wasn't anything memorable about them or the story. It took me a few weeks to actually finish the book and that's because I had no problems setting it aside to read others due to that the story just wasn't grabbing my attention. But I was determined to give this book a chance and I'm actually glad I did. While I feel that there was just too much tell, not enough show and Linz repeats and repeats the same things, like Caine being a Marine. Yes, I know that. Or Faith thinking that just by changing her hair color, it'll magically be able to make her life better. I'm not saying she only rely on her hair color to make her life better, especially after being dumped at the altar, but it did seem to really be part of the equation for her. However, the chemistry between Caine and Faith just comes right off the page and their interaction was great to read. And once I managed to really get into the story, the plot was entertaining. Faith and Caine are both trying to find out what really happened to his dad and they do make a great team. Mad, Bad and Blonde is a quirky story about two people who are trying to make the best of what life dishes out to them and while I did have some problems with the characters, I did finish the book with a happy smile.
Lush Rating: 3!