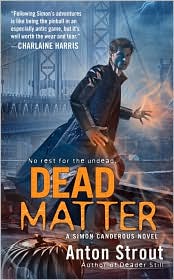 Dead Matter
Simon Canderous, book 3
Anton Strout
Ace
February 23, 2010
ISBN-10:
0441018440
ISBN-13:
978-0441018444
When the paranormal raises its otherworldy head in

New York City

, the Department of Extraordinary Affairs executes a flawless, stick-the-landing smackdown. That's the idea anyway, and Agent Simon Canderous can usually count on help from his mentor, Connor Christos. But Connor's left Simon to handle a double case load as he cashes in on five years worth of saved vacation time. Simon suspects that Connor isn't Club Medding so much as Club Deading it up—investigating the disappearance of his long lost brother.
Simon especially needs Connor when the spirit populace of

Manhattan

is shaken and stirred by someone intruding on their well-deserved R.I.P. But Connor's relentless ghost whispering has sent him off the deep end; he's haunted every night by visions of his brother's ghost at his window. Simon's partner may be going crazy—or worse, maybe he's not...
As an agent for the Department of Extraordinary Affairs, Simon Canderous has dealt with his share of crazy, paranormal stuff, like chupacabras and fashion zombies, but none of that has been as important as his latest investigation. When he founds out his partner Connor is trying to found out what happened to his long-lost brother and in the process has gone the deep end, things rapidly become a lot more dangerous than Simon thought. Maybe Connor is not as crazy as they thought. The D.E.A has always had the belief that they beaten the vampires, but when Simon founds himself in the midst of these bloodthirsty beings, what he's always known comes into question and decisions have to be made before people start dying.
Dead Matter's another great addition to the Simon Canderous series, I think Simon has grown up a lot in the previous books and it definitely shows. Sure, he still has his quirky sense of humor that makes for such a fun read but he also thinks about important things like when he wonders about good versus evil and how it reflects the D.E.A and the vampires' war. While I've never been a big fan of Simon's girlfriend, Jane, surprisingly I didn't really hate her character in this book. She seemed to really care about Simon and tried to help him so I couldn't completely hate her.
I read Dead Matter in one sitting, it's an incredibly entertaining story! I definitely didn't see the "bad guy" coming until the very end. This is a very fun, action-packed story with great characters that will keep you on the edge of you seat! I'm so looking forward to the next Simon Canderous book.