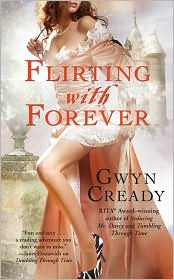 Flirting with Forever
Gwyn Cready
Pocket
March 30, 2010
ISBN-10: 1439107246
ISBN-13: 978-1439107249
Art historian Cam Stratford is about to make a name for herself with her sexy tell-all "fictographies" of 17th century painters, but she's more familiar with her subjects than her readers can imagine. Thanks to a time portal she's discovered, she has caused quite a stir in the Great Beyond. To protect their members' reputations, the Guild representing dead artists convinces playboy Sir Peter Lely, portraitist to Charles II and a man with his own dark secrets, to sabotage Cam's project. A few hours posing on Peter's modeling chaise lead to a night of seductive passion--then Cam returns home and discovers his betrayal. But before she can turn her angry pen on her lover, Peter makes a surprise visit, transforming Cam's 21st century life into chaos of classic proportion.
Flirting with Forever was a bit of a conundrum for me. I haven't read many time travel romances but I really did like the premise. I just thought it was too drawn out at times and this made some parts so boring! But I also loved the interaction with Cam and Peter. They have such great chemistry together! I really did like the story but the pacing killed me. If there hadn't been so much over-descriptions and the pacing was more even, I think Flirting with Forever would be awesome.

I love humor and this book definitely delivers, there are some really funny parts that had me laughing out loud. That along with Cam and Peter's great chemistry was what kept me reading. While the pacing had me sighing and rolling my eyes at times, Flirting with Forever is an amusing story about two people who have been hurt in the past trying to get past that.

Lush Rating: 3!