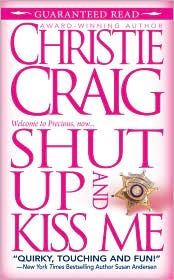 Shut Up and Kiss me
Christie Craig
Dorchester
June, 2010
ISBN: 978-0-505-52799-8
WELCOME TO PRECIOUS, TEXAS
…where fistfights serve as dinner theater and fire ants rain from the sky. The locals are usually very friendly, if a bit eccentric. No pictures please, or you may find yourself a guest of the county morgue.
Photojournalist Shala Winters already had her hands full bringing tourism to this backward, podunk little town, but her job just got tougher. Pictures can say a thousand words, and one of Shala's is screaming bloody murder. Now she has to entrust a macho, infuriating lawman with her life—but she'll never trust him with her heart.
Trusted or not, Sky Gomez isn't about to let a killer get his hands on Shala's Nikon—or any of her more comely assets, for that matter. Her mouth might move faster than a Piney Woods roadrunner, but all he can think about is how good it must taste…and how she'll never escape true love.
I've always being a big fan of Craig's books and this one is definitely her best yet! Shala is a photojournalist hired by the Mayor of Precious, Texas to help bring more tourism to the town because their economy is really suffering and unless something is done about this, the town is really going to suffer. But it soon becomes apparent that Shala's got her work cut out for her. First, her camera is stolen and when she hunts down the thief, she finds out it's actually the sheriff of the town! And to boot, he's a totally hottie, too! It's hard to hate someone when all you want to do is jump them.
All Shala wanted was finish her job and go home, but now that somebody is following and trying to off her, Sheriff Sky Gomez is not about to let her out of his sight. But he's totally hot for her too! However, before they can really explore their chemistry together, Sky and Shala need to find out why she's being hunted and fast, before someone gets hurt.
From the very first word, I fell in love with Shut Up and Kiss Me! All the characters, down to the secondary storyline between Maria, Matt and Jose are so well developed that I was cheering for every single one of them! Sky and Shala have an incredibly sizzling chemistry together that just comes right off the page and I loved seeing them interact. They both have really sad pasts and seeing them get past those old hurts together was absolutely lovely. I had no idea about who wanted to hurt Shala until the end and I did not see it coming at all! I hope Craig writes more about this quirky little town and its inhabitants because I had a blast reading Shut Up and Kiss Me, it's an insanely funny, romantic story with great characters that will steal your heart and a plot that will definitely keep you guessing until the end!
Lush Rating: 4.5!