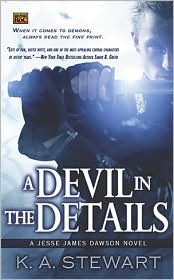 A Devil in the Details
(A Jesse James Dawson Novel, #1)
K.A. Stewart
Roc
July 6, 2010
ISBN-10:
0451463439
ISBN-13:
978-0451463432
Every lost soul needs a champion.
Jesse James Dawson was an ordinary guy (well, an ordinary guy with a black belt in karate), until the day he learned his brother had made a bargain with a demon. Jesse discovered there was only one way to save his brother: put up his own soul as collateral, and fight the demon to the death.
Jesse lived to free his brother--and became part of a loose organization of Champions who put their own souls on the line to help those who get in over their heads with demons. But now experienced Champions are losing battles at a much higher rate than usual. Someone has changed the game. And if Jesse can't figure out the new rules, his next battle may be his last...
Jesse James is your everyday husband-father-working-schmuck. That is, if your everyday Joe (Well, Jesse) happens to also be a modern-day Samurai. Hey, some men mow the lawn, Jesse kills demons. After he had to battle a demon to save his brother's soul, he became part of an organization of men who fight demons for a cost to help those who are over their heads and have bargained their souls to demons. Apart from the fact that these champions are not cheap, whenever they're hired to fight a demon, their owl souls are at stake. So when, after taking his latest job: a super popular baseball player who gave his soul to be able to play, Jesse founds out that others champions have been losing their lives, things get more complicated. They have lost their souls in gruesome battles and if Jesse drops the ball then he's going to be next. (And yes, I just had to add a baseball metaphor!)
Jesse is a highly interesting character. Right from the beginning, he draws the reader in with his dry observations. Something I really enjoyed is how he has a established life, he's a husband and a dad, and I can't remember the last Urban Fantasy novel I read (If any) that features a main character who has loved ones like that. Sure, they have parents and such but a wife and daughter? Nope. I just thought this was insanely cool. However, it seemed to me that at times Jesse tried so hard to a funny, witty guy. I kept having the uncomfortable thought that he was trying to be a bit Harry Dresden-ish. And believe me, I hate comparing one character to another but I just couldn't help it! The thought just kept popping in my head. It's not that this is bad, I love Dresden and his books are one of my favorite series ever but I just hate comparing characters like that.
I do have to say that the plot was annoyingly slow. We see Jesse go from day to day in his normal job and dealing with normal things and I kept wondering when something was going to happen! And yet, when it did? It was very wham-bam-thank-you-ma'am! Sure, I understand the author trying to convey how Jesse has a life outside of being a Samurai and I'm all for that but I also felt that this overshadowed the actual plot about the baseball player. I would have liked a little more action and definitely less talk.
I really did enjoy reading this book though! A Devil in the Details is a refreshing story with really appealing characters who have such witty humor that you don't see coming until it smacks you in the face! I'll definitely be reading the next one in this exciting new series.