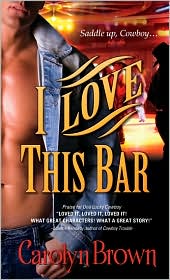 I Love This Bar
(The Honky Town series, book 1)
Carolyn Brown
Sourcebooks Casablanca
June 1, 2010
ISBN-10:
1402239262
ISBN-13:
978-1402239267
She runs the Honky Tonk beer joint; she doesn't need a single thing else...
Daisy O'Dell has her hands full with hotheads and thirsty ranchers until the day one damn fine cowboy walks in and throws her life into turnoil..
He's looking for a cold drink and moment's peace and finds himself one red hot woman..
She's just what he needs, if only he can convince her to come out from behind that bar, and come home with him...
I can't say I've ever read a Western Romance before but I highly enjoyed I love This Bar! It's the first installment of Brown's Honky Tonk series and it features Daisy O'Dell who is the owner of the bar named - wait for it - Honky Tonk! All is good and dandy until she literally falls on a really cute guy named Jarod. It's attraction at first sight but Jarod's being burned by women before and he's more than cautious about Daisy. And well, Daisy's all about her bar, really. Neither one of them can refuse their attraction to each other though and before you know, things are gettin' hot and heavy.
There's a lot of country songs references and I'll be the first to say that they totally went over my head! I don't listen to country but I still had no problem enjoying the story. I did think that Daisy was a bit rabid about her bar. Yes, I know that it's the only thing she's got left and after being hurt by a man before, she takes refuge in it but it seems like this beer joint was her whole life and at times I wondered if she had to choose between the bar and Jarod, which one would it be? Jarod kind of annoyed me at first. Like I said before, he's being burned by women and he immediately judges Daisy to be an immoral hussy because she owes a bar! Seriously. However, I'm happy to report that all misconceptions are easily remedied and I had a really good time reading about Daisy and Jarod getting to know each other.
I Love This Bar
is a super fun read about love, hot cowboys and warm summer nights drinking beer. I'm highly looking forward to the next installment in this series!
Lush Rating: 3!