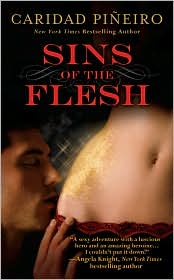 Sins of the Flesh
Caridad Pineiro
Forever
October 27, 2009
ISBN-10: 0446543837
Caterina Shaw's days are numbered. Her only chance for survival is a highly experimental gene treatment-a risk she willingly takes. But now Caterina barely recognizes herself. She has new, terrifying powers, an exotic, arresting body-and she's been accused of a savage murder, sending her on the run.

Mick Carrera is a mercenary and an expert at capturing elusive, clever prey. Yet the woman he's hunting down is far from the vicious killer he's been told to expect: Caterina is wounded, vulnerable, and a startling mystery of medical science. Even more, she's a beautiful woman whose innocent sensuality tempts Mick to show her exactly how thrilling pleasure can be. The heat that builds between them is irresistible, but surrendering to it could kill them both . . . for a dangerous group is plotting its next move using Caterina as its deadly pawn.

It took me weeks to be able to sit down and write this review, I just kept putting it off. Rarely, I find a book that I just don't click with, and
Sins of the Flesh
was one of them. While the blurb sounds great and the cover's pretty awesome, the story fell flat to me, the characters two-dimensional and cartoonish and I just couldn't get into the story.
Caterina Shaw was dying of cancer until she gets into an experimental program to help her at least gain her sight back, maybe even save her life. What she never counted on is finding herself on the run for her life, with new terrifying powers and being accused of murder. Mick Carrera is hired to find her, dead or alive. However, what he founds is a terrified Caterina, not the scary monster who could have murdered that scientist in cold blood. Soon enough, they find themselves attracted to each other but Mick is supposed to bring her in, so hello, hard place and rock, nice to meet ya.
Even my review is lackluster! That's how I felt about this book. I couldn't click with the characters, and that's one of my biggest pet-peeve when reading a book. I need to feel somewhat connected to the characters to be able to care about what happens to them and I just didn't in this case. However, there were parts I enjoyed, like the sexual tension between Mick and Cat and Mick's family dynamics. Unfortunately, the parts I didn't like overshadowed the ones I did. All-in-all,
Sins of the Flesh
was a miss for me.