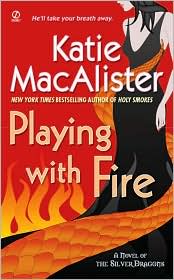 Playing with Fire
(Silver Dragons, book 1)
Katie MacAlister
Signet
May 6, 2008
ISBN-10: 0451223780
Gabriel Tauhou, the leader of the silver dragons, can't take his eyes off May Northcott. Not even when May, who has the unique talent of being able to hide in the shadows, has slipped from everyone else's sight.

May, however, has little time for Gabriel - not when she's hiding from the Otherworld law, hunting down a blackmailer, and trying to avoid a demon lord's demands. But her ability to withstand Gabriel's fire marks her as his mate, and he has no intention of letting her disappear into the darkness she seems to prefer.


Then May is ordered to steal one of Gabriel's treasures - an immensely important relic of all dragonkin - and he must decide which to protect: his love or his dragons...

I loved this book! I've read most of Katie's books - her Aisling Grey series, Dark Ones, contemporaries (
Blow Me Away
(Pirates!),
Hard Day's Knight
! etc) and more - and needless to say, I've enjoyed every single one, I completely fell in love with the characters in
Playing with Fire
. May and Gabriel is perfect for each other, old favorite characters back, including the awesome Newfie demon, Jim! I'm Team Jim. I wanna take him walkies.
Playing with Fire
features Katie's awesome sense of humor, hot steamy lovin', great characters and a really fun plot! It's the first book in the Silver Dragon series and I can't wait to read
Up in Smoke
, the second book! I highly recommend
Playing with Fire
, it's such a fun read!